Smartsack products can be used very effectively indoors and outdoors. Many schools find them a great support in developing outdoor learning. Whether used indoors or out, Smartsacks have several benefits for a healthy child and for a health promoting school.
Be A Healthy School
The National Healthy Schools programme promotes a whole school approach to health. The NHSP, introduces the concept of National Healthy Schools Status as well as outlining the benefits for becoming a 'healthy school' and what schools need to do to gain National Healthy School Status.
A healthy school promotes the health and well-being of its pupils and staff. It does this in a physical and emotional environment that promotes learning and healthy lifestyle choices. Schools need to satisfy criteria in the four core themes within the programme:
Healthy eating / Physical activity / PSHE / Emotional health and well-being.
Ofsted expects schools to demonstrate how they are contributing to the five national outcomes for children stipulated by Every Child Matters and the Children Act 2004. Gaining national healthy School Status provides rigorous evidence of this. SMARTSACKS™ for every child in the class will help schools to meet the requirements.
A clear, uncluttered desk can help children to focus and work better.
Water bottles can be kept close to hand and the insulated pocket will help to keep drinks cool.
The integrated padding encourages good posture as the children are encouraged to sit upright rather than to slouch forward.
Further research shows that :
'Slumping in your chair puts extra stress on the invertebral discs and can add to disc degeneration.'
'Teaching children good posture is an important part of the school's emphasis on health"
Nancy Manson, director of www.spine-health.com
The Department of Health tells us :
"It is important to encourage water consumption by setting up school policies and providing resources which promote drinking water.." www.dh.gov.uk
---
Learning Outside the Classroom Manifesto
The Smartsack Company is delighted to support the Learning Outside the Classroom Manifesto, which was launched by the Secretary of State for Education and Skills on 28 November 2006.
The Manifesto states :
There is strong evidence that good quality learning outside the classroom adds much value to classroom learning. It can lead to a deeper understanding of the concepts that span traditional subject boundaries and which are frequently difficult to teach effectively using classroom methods alone. It provides a context for learning in many areas: general and subject based knowledge; thinking and problem-solving skills; life skills such as co-operation and interpersonal communication.
Learning outside the classroom provides a powerful route to the 'Every Child Matters' outcomes, in particular enjoying and achieving, staying safe and being healthy. Much learning outside the classroom will take place as part of programmes that support personalised learning and complement the strategy for young people set out in 'Youth Matters'.
---
A Curriculum for Excellence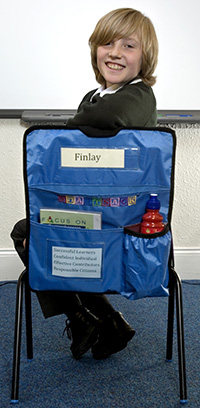 There is much agreement that active learning, including purposeful play, has a positive and lasting impact on children's learning in pre-school and the early years of primary school.
'Children learn by doing, thinking, exploring, through quality interaction, intervention and relationships, founded on children's interests and abilities across a variety of contexts. All combining to building the four capacities for each child.'
'Environments that offer differential play and challenge, staff who are well informed and able to challenge learning, child-centred and building on previous experiences, fun absolutely essential, children planning and evaluating their learning.'
Research shows that 'zoning' is an important feature of outdoor learning. A quiet zone , normally with shade, is essential, where an entire class can be taught outside to encourage working within the environment. Your SMARTSACKS™ will be a superb, cost effective and moveable way of providing that essential quiet zone – anytime and anywhere.