Winner - Bright Business Idea 2008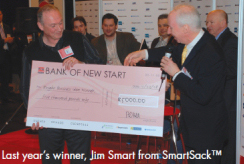 Organised by New Start Scotland
The SMARTSACK™ was voted the overall winner from thirty six semi finalists and six finalists.
The panel of five business judges described the SMARTSACK™ as a 'simple yet effective idea that had great potential for future growth'. They recognised the product's ability to solve an existing problem in many classrooms. Most importantly to us, they recognised our own enthusiasm and dedication to our idea.
---
Finalist – Biggart Baillie Innovation Awards 2008

We were delighted to be included in the final three in this national competition. The SMARTSACK™ was once again applauded for its simplicity and effectiveness as a storage product and as an outdoor / indoor cushion.